Feeling free while travelling in an RV is one of the biggest perks to mobile life. But that doesn't mean there aren't rules to follow when on the road. If you're planning to park in an RV campground, know that there are some standard rules to adhere to during your stay.
Some of the most common rules for RV campgrounds include: Dog breed restrictions, when generators can be used, RV length restrictions, tank dumping, and rules about leaky vehicles.
Here, we'll dive into the 10 most common RV campground rules you'll likely experience during your travels; Knowing what to expect will help you plan better and make your trip more enjoyable.
#1. Pet Restrictions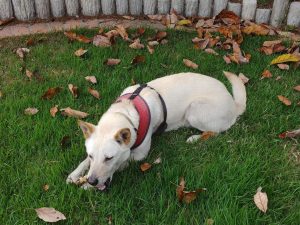 For many of us, traveling without our furry friends is not an option. Unfortunately, many RV campgrounds have strict rules about the kind of animals allowed on site.
The most common rules regarding pets are dog breed restrictions and limits on weight. Often excluded are Pitbulls, Pitbull mixes, Boxers, German Shepards, Doberman Pinschers, and other large breeds [campgrounds sometimes also have a weight limit stated on their website].
Campgrounds are known for turning RVers away if they see any rule being broken, so before you head out, make sure to check the campground's website and call them directly to make sure your pet is allowed at camp.
#2. 10 Year Rule 
A surprising rule many RVers are unaware of is the "10 Year Rule" campgrounds often enforce. This rule is exactly what is sounds like: If your RV or camper is over 10 years old, many RV parks will not allow you to stay.
This is especially frustrating for RVers who have maintained the appearance and functionality of their campers, as well as for those who own vintage trailers like Airstreams.
Luckily, there are some campgrounds willing to waive the rule if you send in photos of your RV. If the camper looks nice enough, many managers can be persuaded to accept your reservation even if your RV is older than 10 years old.
Read more about "Why Do RV Parks Have a 10 Year Rule".
#3. Generators
Running your RV's generator might give you the energy you need to run your appliances in a campground, but it can also give your neighbors a headache! Since most generators are loud when left running, RV campgrounds set rules for their use: Either they're prohibited from use entirely, or have a limited time frame during which they can be used.
If you plan on parking at a campground with electric plug-ins, or if you have silent solar panels on your trailer, then you won't need to worry about using a generator during your stay. If you're going dry camping, however, always make sure to check the campground's generator rules before you book your trip!
#4. Leaky RVs
RVs are built for travel, but their internal systems are knocked around during trips, causing problems like leaks to pop up relatively frequently.
Pipes get josteled on the road, things come loose and can cause leaks from the grey water tank or the black [sewage] tank! If an RV leaks from any external pipe, campgrounds are likely to turn you away. The reason for this is clear: Leaky trailers are unsanitary.
Grey tanks are typically just dirty water from kitchen sinks and showers, but black tank leaks are sewage; Campground management is not going to take the time to do an inspection of your camper to decide if your particular leak is 'acceptable'. Instead, all leaks are viewed as likely contaminants, unsafe, and possibly ruinous to the campground site, itself.
So, before taking a trip anywhere, make sure there are no leaks dripping from your camper. If you spot any problems, repair them before getting on the road.
#5. Glass Containers
Glass containers of any kind are often prohibited in RV campgrounds. While most campers are respectful of campsites, accidents can happen- like dropping glass bottles which cause real problems for the area, wild animals, and other visitors.
Glass shards and shattered bottles are difficult to clean up, so to nip this problem in the bud, many campgrounds disallow glass containers entirely.
#6. Dumping Tanks
When it comes to dumping grey and black tanks, each RV site is different. While some offer full hookups for both accessing fresh water and connecting to their waste area, others offer neither. In fact, many sites offer just the bare minimum- a slab to park on- with no way to dump your tanks at all!
If an RV campground doesn't allow dumping on the premises, always heed the rules. Dumping grey tanks can get you kicked out, and dumping black tank sewage in an unpermitted area will get any RVer in serious trouble!
For some travelers, not having hookups to dump the tanks is a no-go; So, as always, double check the site you want to visit has everything you need to make your journey a comfortable one.
#7. RV Length Restrictions
Campgrounds typically have RV length restrictions, and acceptible lengths may be determined by what lots are available during certain times.
Normally, RV sites allow trailers from the smallest 15 footer all the way to 50 foot RVs. But even if a campground allows for such a wide range of lengths, it doesn't mean they will have a vacant site available to accomodate every size.
Luckily, most reservations are now made online, with all amenities and restrictions clearly stated before visitors book the site- If not, it's a good idea to call the campground directly to make sure your RV length is acceptable prior to booking the site.
#8. Electric Fees [Long Term RVers]
For those planning on a short stay in an RV campground, there's typically no extra electricity fees added to the bill.
If, however, the plan is to stay a month or more, RV sites normally charge an extra electricity fee that can end up takcing on an extra $50-$200 per month! Although long-term RVers often get a good discount on rent, electric fees can be an unwelcome surprise.
#9. Outdoor Decorations and Furniture
Many RV campgrounds are a bit like Home Owner Associations (HOAs): The rules are meant to keep the area looking clean and uniform. Distracting decorations and outside furniture are sometimes prohibited as they are seen as garish and take away from the aesthetic theme the campground management want to set for all visitors.
Off grid sites far away from other campers are more lenient when it comes to cute colored lights on an RV, or mini-camping furniture outside the camper, but if parking in a more maintained area next to many other travelers, these little "extras" are often not permitted.
Other Common Rules to Note:
RV repairs
Doing repairs on one's RV is normally not permitted. Not only can repairs and troubleshooting get loud, but oil leaks and other chemicals are likely to drip on the site causing sanitation problems and eyesores for the management. If there's a problem with your camper, bring it to a proper mechanic, off-site.
Clean Up Before You Leave
Make sure to clean up any trash, containers, and food before leaving your site; This helps protects any wild animals in the area, and creates a culture of respect and cleanliness in the campground.
Some of the more well-maintained campsites will charge visitors a fee for any trash left behind, so cleaning up can end up saving you from extra fees, too!
Clean Up After Your Pets
Cleaning up after your pets is polite and also maintains the cleanliness of the campsite. Most campgrounds have trash cans available, making clean-up easy, but even if going fully off-grid, digging a hole in the ground for your pet's 'business' is also doable.
Wrap Up
Before heading out on an RV adventure, be aware of campground rules commonly enforced.
Dog breed restrictions, electric fees, dump areas, and RV length restictions are only a few of the rules RVers must heed when staying at RV campsites. Make sure to do a little research before booking a stay to make your trip as easy and worry-free as possible!